Shopping Cart
Your Cart is Empty
There was an error with PayPal
Click here to try again
Thank you for your business!
You should be receiving an order confirmation from Paypal shortly.
Exit Shopping Cart
Apostolic Tandem World Evangelism
Bridging The Gap Ministries International Fellowship
"Bringing Unity To The Body of Christ"
We now have Locations in Baltimore, MD - McAllen, TX
Jamestown, NC - Warren, MI - Danville, VA
Montgomery, PA
More information coming very soon.
Dr Barry's 60t​h Ministerial Anniversary
JULY 2023
ATWETV - Jesus Ministry
Apostolic Tandem World Evangelism
ATWETV - Jesus Ministry ATWETV.COM
Bridging The Gap Ministries International Fellowship
John Kish Miracle Ministries International JKMMI.COM
POWERHOUSE MIRACLE CRUSADES
​TENT MEETING
ATWETV - Jesus Ministry
WORLD FIRE CONFERENCE 2023
September 1st, 2nd & 3rd 2023
9601 US 220 N
Stoneville, NC 27048
Plenty of Hotels are nearby Stoneville, NC 27048 area
Powerhouse Miracle Crusades - Tent Meeting
September 1st, 2nd, 3rd, 2023 - Stoneville, NC
ATWE Official / Affiliated Churches, Ministries & Schools
Nigeria – Dr Godwin Unaeze DD
International Apostle, Bishop and
ATWE Overseer for all of Nigeria and Africa (ATWE School of Ministry)
South Africa – Dr Vitus Eze DD
International Apostle, Bishop and ATWE Overseer for all of South Africa
(ATWE School of Ministry)
Uganda - Pastor Frank Sempijja
Bishop & Overseer for all of Uganda
(ATWE School of Ministry)
Ghana
Accra – To Be Announced
International Apostle, Bishop and
ATWE Overseer for all of Ghana
(ATWE School of Ministry)
[REGISTERED]
Indonesia
Jakarta -
Overseer for Jakarta, Indonesia
(ATWE School of Ministry)
Kenya
Narobi - Pastor Frank Sempijja
Nigeria
Nigeria – Pastor Dr Godwin Unaeze DD
International Apostle, Bishop and
ATWE Overseer for all of Nigeria
(ATWE School of Ministry)
South Africa
South Africa – Dr Vitus Eze DD
International Apostle, Bishop and
ATWE Overseer for all of South Africa
(ATWE School of Ministry)
Uganda
Uganda - Pastor Frank Sempijja
ATWE Bishop & Overseer-for all of Uganda
(ATWE School of Ministry)
News from Jakarta, Indonesia
10 March 2015 Jakarta, Indonesia
I want to thank Apostle Barry Davis Sr. & Apostolic Tandem World Evangelism Miracle FIRE Crusades Ministries the seed he sowed into our Ministry specifically for a Motor Bike here in Jakarta, Indonesia. We now have some transportation to get around for ministry and also as a family! His seed was not a small one, but one he sowed in faith trusting Jesus! Apostle Barry Davis has sacrificed his own money and time to come out to Jakarta, Indonesia to minister the Apostolic truth that was preached by Jesus Christ & the Apostles. I don't think people realize the sacrifice he has made in his own life to preach the Gospel Over seas. He lives a simple and modest life, so he can do the work of Lord! When he came to Jakarta, Indonesia he came here not only as a giver of the Gospel but he brought things to me that I can not get here in Indonesia. He also gave out many things to the Pastors and the Congregations, and never complained or asked any thing for him self. If you want to sow a seed into a ministry that you can trust and that's doing a true Honest work for the Lord, This is the one! As a missionary, I want Gods Blessing! The Lord told me when I first got to Indonesia, if I sowed and gave to others and other Ministries He would take care of me and my wife & two Children. I learned to live by faith when those words were spoken to me by the Holy Ghost! Since then, I have sowed and sowed by faith. One of the Ministries I have sowed into is Apostle Barry Davis & ATWE Ministries. And I will continue to do so as i can. I believe in this Ministry, Bishop Davis believes in us. Thank you Brother for blessing us in Jakarta, Indonesia and sowing a seed for our need. May the Lord Jesus bless you with many Blessings in Jesus Name! I pray others will sow into this ministry. Peace be unto you. Missionary Steve, Amelia, Gracelyn & Marianna Sparks.
Jakarta, Indonesia Nov. 2014 was a success!​
God moved in SIGNS, WONDERS and MIRACLES His wonders to perform! Many saved, healed and delivered in Jesus Name!
Breakout Jam Service April 5 2014 with Dr Barry Davis Sr in Ghana
Our ATWETV Program is called "GOD IS"
This is the new logo and name for the ATWETV show.
Now look what Jesus has done!
God is moving by his spirit signs, wonders and miracles galore.
We are on ROKU and are seen in many countries around the world.
Please support us in our tv ministry as well for missions!
Crusade to Canada July of 2014
Crusade in Canada was great. Was in Pakistani and Jamaican communities. Many saved, healed and Delivered.
MISSION TRIP TO ACCRA, GHANA
April 1st to 9th 2014
The crusade in Ghana was a huge success. Many saved, healed and delivered. One hospital was emptied out by prayer! GOD IS!
Holy Anointing Oils For Sale
We have anointing oils for sale now. Please contact me about pricing and availability. We have the EXODUS 30 Formula available. Also many others.
ATWE is now on Roku via LifevisionTV
Check Apostolic Tandem World Evangelism out on Roku via LifevisionTv. To join, log onto LifevisionTV.com and sign up as a subscriber or an Associate. Make income while you sleep. Put your Ministry or Church programming on LifevisionTV for the world to see. This is the only service like it available.
If you join, please mention Dr Barry Davis Sr as you SPONSOR or REFERRER. We are happy to be a part of LifevisionTV as an Associate and partner. Pass the word on to others and mention me as your sponsor or referrer. A Roku will be mailed to you when you sign up. If you already have a Roku, then use contact email or phone number to get your very special price.
2014 will take us to LONDON, GHANA, KENYA, KOREA, UAE and the Dominican Republic. Please stand with and partner with us as we are about the work of the Lord Jesus during this awesome new year.
The year of 2014 is the fulfillment of Joel 2:25! Stand with us and reap the Blessings of the Lord in your life!
In Texas and Mexico from 12-17 to 12-24-13. Traveling to Orlando, FL for World Conference from January 2-5, 2014. Then will speak at Maximum Life Church in Orlando where Bishop Carroll Johnson is the pastor and diocesan Bishop of Florida.
50th Ministerial Anniversary Celebration of Dr. Barry Davis Sr
In June 2014 International Apostle & Bishop Dr Barry Davis Sr will be celebrating his 50th Ministerial Anniversary. Help us celebrate by sending a donation to support our ministry via the donation link here. Also visit our web store and purchase a copy of our DVD filmed in Pakistan during June of 2011.
We need your support now, please help.
Our needs are great. We have urgent ministry needs that must be met as soon as possible. Please click on donations and sow a seed to help us. Thank you for your support and taking the time to obey God in this matter. Purpose your seed gift. Put a name on your seed and watch God meet your needs!
We are also getting ready to fly to London for a European Campaign in 24 nations and need to raise about $300,000 to make this trip possible in 2014.
We are feeding the children, supporting the orphanages, drilling fresh water wells, providing free medical clinics, providing jobs for the nationals in Pakistan, Mozambique and other parts of Africa. Please help us to continue to provide these services abroad. We need YOUR SUPPORT to be able to meet the needs and also minister to the lost. We are training nationals to teach the Word of God, teach school and trades.
Click CANADA then UCF to see what our Friend & Partner, Pervez Masih, President of UCF Canada is doing in Pakistan. They are providing Clean Water Wells and Free Medical Clinics.
We have sent supplies to UCF for their medical clinics in Pakistan. If you wish to donate supplies, please contact us for more information. Thanks for your support!
We welcome you to our new missions web site! Kick back and feel at home while you are here. Sign up and become a member and receive updates of our crusades!
Apostle Bishop Dr. Barry Davis Sr and Team from Baltimore, Maryland, are conducting great City-Wide Healing & Deliverance Crusades Around The World with International and Local Host Pastors.
We are looking for a great time in the Lord Jesus with scores saved, baptized, filled, healed and delivered. We are currently working in Jamaica, Canada, UAE, London, Pakistan, UK, Haiti, Philippines, India, Africa, Bermuda, Europe and Asia. We have many requests to come to many other countries and minister the Word of the Lord Jesus. The costs are very high with visas, travel and other expenses.
Please PRAY for our mission trips! We need your financial support to help meet the costs of the mission crusades. The overhead is great as air fares are ever increasing. Why not consider planting and purposing a seed into this great mission Endeavour. Your church or organization should consider supporting this ministry on a monthly basis. This will help keep finances flowing so we can take the message of salvation to those that need it the most. Why not have a missions service each month and receive a special love offering of support.
We would love to come to your church and present our program and reports for your missions services. One way to facilitate church growth, is through supporting others carrying the word to a foreign country. When you are un-able go to the mission field, you can support those that do go. You can purpose a 'Seed For Your Need' that is sown into this ministry and receive the benefits and blessings, just as if you went and were ministering yourself.
Kindly click the DONATE button to the left in menu or to right and give generously as the Lord directs you!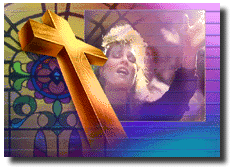 I feel a mighty revival coming! My bones ache in anticipation of it! Can I get a HALLELUJAH and AMEN from someone? WHEWWWWW HAAAA GLORY!!!!! Put on your dancin' shoes now. The Holy Spirit is raining in on us even now as you read this post. Miracles, Signs and Wonders are coming to those that beleive in the Name of Jesus, and follow Him! Thousands seeking the in filling of the Holy Spirit are going to receive it at church, in the stores, at work, onthe bus or subway and will receive POWER (say POWER) to cast out devils and heal the lame and set the captives free!!!! Do you feel what I feel? The JOY of the Lord is my strength!!!!
Recent Songs and Podcasts
Recent Songs and Podcasts
/